Craftsmanship and Archery

Howard remembers:


"He (Guy) was a good craftsman and architecturally inclined - meticulous in everything he did.
Sometime during college, he became interested in archery through some friends. Then he decided he wanted to build his own bows because he had read somewhere about the kind of material you could use for them and how they varied.


Guy in 1940 - age 19

We had this place in Palo Pinto County, west of Weatherford, Texas. We had 3,000 budded pecan trees down there on the ranch. So he went down there and found a couple or three long pieces of pecan wood. He had heard that that would make a good bow. He cut them, took them to the house up on the roof, and lowered them down the chimney and let them age in there with smoke going up through them all year. And then, he very carefully tapered them with steel wool and sandpaper, and adding some black overlay running the length and some mahogany on the handle. It would be quite a piece of workmanship! And he would make his own arrows adding points and hand-trimmed feathers!

I never did say this to him, but he was so accomplished at everything he tackled. If I had thought about it, I would have said, ' Ease off boy, you're going to give me a complex! ' But I was always so proud of him and he was so wonderful. I was delighted to be in his company."


(Howard had just taken an announcer position with KBST in Big Spring, Texas.
This letter was written barely a week before he met Jean, his future wife.)




April 27, 1938

Dear Brother:

A fine thing! Not even a single letter since I came out here. Oh well to tell the truth I didn't expect any. Say Boy! I'm sending a copy of the last issue of Broadcasting the national Radio Magazine. It's printed in Washington, D.C. and I got my name and a little article in it about my coming out here. Not only that I was the third person mentioned in the "Behind The Mike" column. There were a lot of important guys that were farther down the list than I was. I'll send the magazine on in a few days. Not only did they print the article but they sent me a free copy of the magazine it was in. I thought you all might like to see it and also I thought Mom might like to have it just so she could see that her oldest son was slowly but surely getting up in the world. It's a long way to the top but maybe I'll get there some day if I keep trying. Please pardon the errors in typing, but I'm in an awful hurry. I have to finish this by 7:30 and go on the controls and give "Huck" a rest. We had a baseball broadcast this afternoon and it caused everyone to work overtime.

Say boy you ought to hear me sing on the Piano Impression Program every morning. I have to sing one song every morning rain or shine. I have gotten some pretty nice fan mail on account of it. And man oh man! you ought to see the fan mail I get on the Curbstone Reporter. That's my man on the street program that I do down on the main street every day at 12:15. Just since last Friday I have gotten about 35 letters. Boy I really pull the mail on that program. The People out here appreciate the radio station more than the people in Abilene do. How do you like my schedule? I get off every night at 6:15 and I don't ever have to go back to work til 10:00 the next morning. Pretty neat eh what? Well it looks like this is going to get long and drawn out so I'd better stop and change to a fresh sheet of paper.

Page two. . .

My good man as soon as school is out I want you to come out here and stay a week with me or even longer. I want you to show these punks out here how to dive and how to attract the girls. They don't even know the first principles about Tennis or diving. You can come out with Willard and go back with him a week or two weeks later. Tell Mom that if there are any socks or underwear around there that belong to me I would like to have them because I need them plenty bad. Also tell her to send my enlarger and all the other stuff out here as soon as she can. I want everything, because it looks like I'm permanently located. I have moved out of the Hotel and now like my new place better. It's out in town with Mr. and Mrs. Leo Nall. It's a lot more like home than the hotel. By the way, the other day on the Curbstone Reporter I interviewed a relative of Mr. and Mrs. Riddle as I thought they might like to know. He was a boy about your age and his name was Robert Riddle. I asked him if he was kin to them and He said he was. I'm writing so fast I'm making to many errors that it's pitiful, but maybe you can get some sense out of it. Tell Richard I'm going to raise the dickens with him if he doesn't answer the letter I wrote him.

I thought the page would look better if I started a new paragraph so I did. When you come out here I'm going to make you sing the song in the mornings on the piano impression program. I wish you could get a job out here and live with me. We could sure have a lot of fun when we weren't working. By the way I might add that where I moved to just costs me $4.50 a week and It's real nice and I like it a lot. The room is mine and when you come out you can stay as long as you like and it won't cost your a cent. P.S. Bring the tennis racquets so we can play some. Here's one reason you would like my room. In the room right next to mine there are two girls and they're good looking. You know that picture of yourself that you gave me. Well I have shown it to almost everyone and it has given you a lot of advance publicity. I wish it was summer right now so you could come out to stay with me. Mom probably wouldn't let you come out here to work because it would leave her with just one son, but anyway it would be swell for us to work and live together. You know I've lived with you for so long now that I'm beginning to get used to you....Ha..Ha.. "Huck", the engineer that works with me a lot is just my age and we are invited to a picnic after we get off the air, and I guess we will go.

your Brother,
Howard....

PS. Tell all the gang that I send my love and best regards.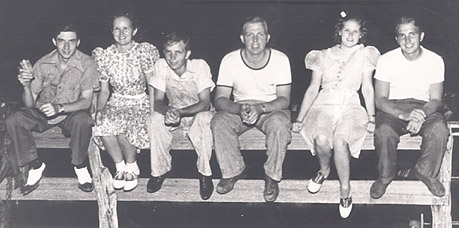 Richard Shipman, Geraldine White, Roy, Howard, Bonnie (last name?), and Guy - about 1941